Shopify has a very simple yet sparking motto,
"You've got the will. We've got the way."
Make shopify your new best friend if you want to get in the business game. The past year has been uncertain for all of us, however, it has definitely boosted e-commerce and virtual purchases globally. Last year, Shopify made over $1.5 billion in sales during Black Friday. This meant 10,978 orders per minute and peak sales volume per minute of $870,000 (source: shopifyandyou.com). It manages an organization's inventory, payments, and shipping from a central cloud-based platform.
Shopify is the second largest e-commerce platform in the US and as a result of its success, owners are choosing Shopify more than any other platform. It is simple to use, affordable and customer-friendly, and this is why there is a 126% year-over-year average growth for Shopify Plus merchants (source: shopifyandyou.com). Shopify has a market share of 20%, and it is currently used by 600,000 businesses in about 175 countries (source: news.shopify.com).
Once organizations decide to build websites for their businesses, they are usually bombarded with numerous options, which becomes overwhelming at times. One of the easiest ways to buy websites is through shopify, since it is the cheapest and most convenient way for businesses to start selling their goods and services online. Shopify has also monopolized the e-commerce industry in the United States. Shopify is used by some huge brands globally i.e Allbirds, Heinz, Tesla Motors, Amnesty International, and Kylie Cosmetics that need no introduction. Shopify's usability and built-in SEO tools are without any doubt one of the reasons behind the success of these big names.
As predicted by Statista, there will be a rise in the number of people buying goods and services online to over 2.14 billion people globally by 2021. In order to meet the demand of digital buyers, a prosperous ecommerce platform will be required. And there is no better platform than Shopify! It doesn't even matter if you are not tech-savvy, or you have grown out of marketplaces like ebay or amazon, you can still shift to Shopify and have an ecommerce platform of your dreams. It is said that more cost effective platforms outperform legacy platforms, hence migration is a plus-plus when it comes to well-established businesses. (bigcommerce.com)
However, do not generalise that Shopify is only profitable for big businesses, it works equally well for small-scale businesses as well. So you see, it caters and propels to businesses of all sizes. Instead, it is ideal for small businesses that sell digital as well as physical products. One of the main reasons for this is because shopify is a hosted solution that does not require advanced technical skills to create and manage online stores. It has a couple of templates that can be customized and used by entrepreneurs to their suiting. Another fun fact is that more women than men are now building their ecommerce platforms on shopify, which is an example of its seamless process.
Now, let's elucidate Shopify and reasons why organization's should go for it, right from the get-go. I'll leave it for you to decide if it is for your organization or not.
You should shift to Shopify because:
We love Shopify, and we are sure you will love it too. Have a look at the below mentioned 5 reasons why choosing shopify will be a great choice for your organization.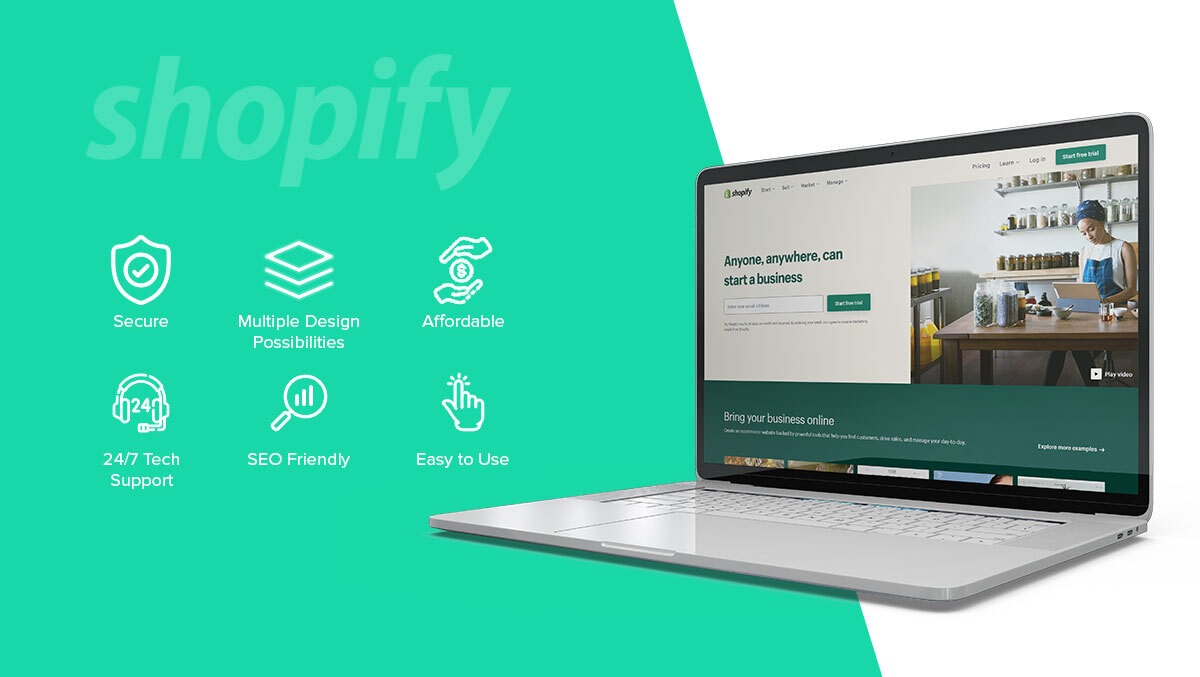 It's affordable - who doesn't wanna save up costs?
Businesses often struggle with ecommerce platforms due to the high installment and operational costs. Well, that is not the case for shopify. It is a fantastic platform that does not rip off organizations with huge costs. It is affordable to maintain as well as has fewer development costs. Another plus; it offers annual plans and biennial plans.
If you are looking forward to quickly and affordably starting an online store, without worrying about the servers, hosts, and expenses – you are sorted. Shopify has got it all! It is a fully hosted platform that will reduce the costs as compared to other ecommerce platforms.
It is SEO-friendly - an extra step!
Shopify makes it easy to edit the most essential aspects of your website to make them search engine friendly from the perspective of online marketing. Managing SEO through shopify is easy because it is built with all crucial components required for online stores. An organization's old ecommerce platform can make it difficult for them to compete in key areas.
Ranking factors required by standard-practice SEO i.e. structure, on-page optimization, etc. are all covered by shopify. Inputting meta descriptions, URLs, page tiles, meta tiles. visibility and invisibility pages, and redirecting web pages will offer greater flexibility in optimizing your online platforms.
It is extremely secure - as well as reliable.
Shopify has spent thousands of dollars to ensure that it is a secure and safe platform, and to safeguard its $55 billion-plus customer transactions and data. Having a secure platform is necessary when it comes to e-commerce since it will help businesses gain customer trust when they give their credit/debit details.
Since it is a global hosted platform, it has people monitoring the network round the clock to assist users with any problems that may arise. Moreover, for less tech-savvy people, shopify takes care of SSL and PCI compliance to accept credit cards and store sensitive information.
You are probably thinking that other platforms also offer this, yes they do, but do they offer the same security and reliability at the same price? The answer is no, they will charge you heavily.
It has endless design possibilities.
You do not want to welcome your customers with a boring and dull online store, right? Well, you don't since the first impression is everything. Shopify has a vast variety of website designs for you to choose from to beautify your online store! Just because it is a pandemic does not mean that online shopping has to be any less exciting.
The theme store offers a very good range of professionally designed themes priced nominally, as well as a couple of decent standard themes. Moreover, if you want to add a personalized hint to your website, the Shopify design professionals can help you achieve it. You can always reach your outsource team and its experts for advice related to design, or to make any changes, since they know it all.
It is incredibly easy to use.
If you want to get your online store running ASAP – Shopify is the best option you have out there. It is built to assist you in getting your online store on-the-go in absolutely no time. Another very good feature of it is that it is free from in-depth technicalities. You can get your business upgraded to a seamless online store without the need for any coder, or technical team. All you need to do is find a good software development outsourcing company that knows their work, and they will get it done for you!
You do not need any design background to  professionally design an amazing looking template site. It's also completely customizable.
To sum up, Shopify is an affordable as well as user friendly ecommerce platform. It has a number of affordable packages to choose from based on your budget and usage. If your old platform has grown unstable under peak traffic conditions, choosing Shopify is probably for the best. We can help you develop a fully equipped shopify store along with 24/7 support.
We will ensure that your Shopify store impresses your site visitors as well as it offers an overall seamless buying experience that will make your customers crave for retail therapy again and again!