Are you looking to set up your own online business but unsure about where to start? We might have a one-stop solution for you, that will take care of all your business-related concerns.
Last year, Shopify made over $1.5 billion in sales during Black Friday. This meant 10,978 orders per minute with a peak sales volume of $870,000. Shopify has a market share of 20%, and it is currently used by 600,000 businesses in about 175 countries, around the globe.
Shopify helps you to bring your ideas to life. It has a simple yet compelling motto:
"You've got the will. We've got the way."
Interestingly, Shopify is also one of the second largest e-commerce platforms in the United States. As a result of its success, entrepreneurs are choosing it more over any other platform. It is simple to use, affordable and customer-friendly.
Shopify can manage an organization's inventory, payments, and shipping from a central cloud-based platform. Even some of the top fortune 500 companies like Tesla Motors, Allbirds, Heinz, Amnesty International, and Kylie Cosmetics have been successfully running on this e-commerce enterprise platform.
A research study has forecasted that there will be growth in e-commerce sales by 56 percent in the years to come which is expected to reach around 8.1 trillion dollars by 2026. In order to meet the uprising demand of digital buyers, an eCommerce platform is a must for your business. Fascinatingly, Shopify does not require you to be tech-savvy at all. Even if you have grown out of marketplaces like eBay or amazon, you can easily shift to Shopify for greater scalability and run the online business of your dreams.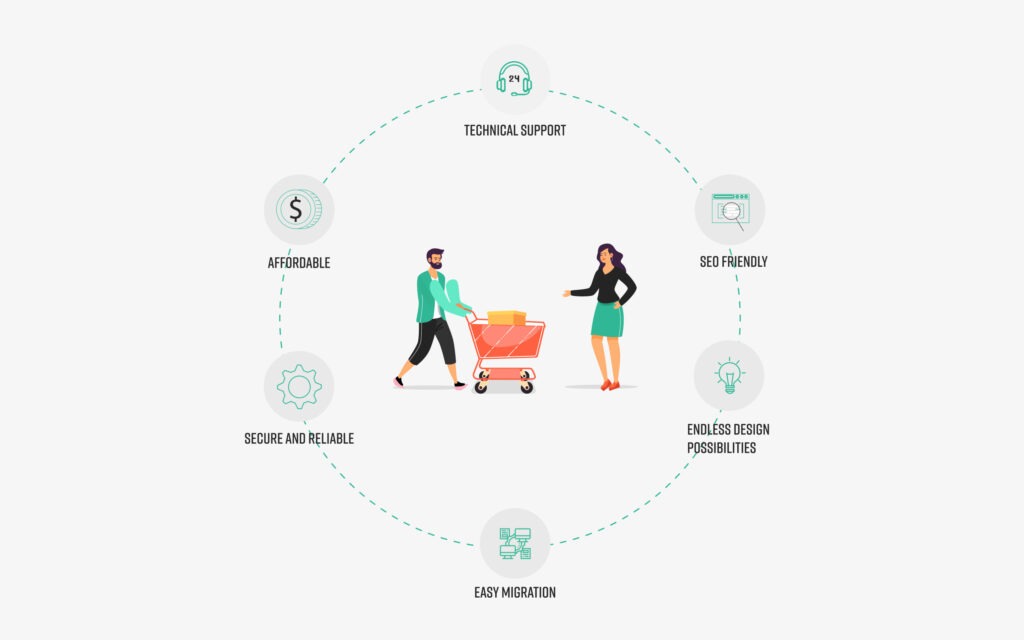 6 Reasons to Shift to Shopify
Now, let's elucidate Shopify and the Six reasons why organizations should go for it, right from the get-go. I'll leave it to you – to decide if it is the right fit for your business or not.
1) Affordable
Who doesn't want to save up costs? Businesses often struggle with eCommerce platforms due to high operational costs. However, that is not the case with Shopify. It is a seamless platform that does not rip off organizations with huge costs. It is affordable to maintain with fewer development and maintenance costs. Another plus; it offers monthly and annual plans.
If you are looking to quickly and affordably start an online store, without worrying about the servers and hosting costs – Shopify has got it all covered! No extra or hidden charges. 
2) Extremely Secure & Reliable
Shopify has spent thousands of dollars to ensure that it is a secure and safe platform, in order to safeguard its $55 billion-plus customer transactions and data. Having a secure platform is necessary when it comes to eCommerce since it will help businesses gain customer trust while sharing their credit/debit credentials.
Since it is a globally hosted platform, it has a team monitoring its network round the clock to assist users with any problems that may arise. Moreover, for less tech-savvy people, Shopify also takes care of Secure Sockets Layer (SSL) and Payments Card Industry (PCI) compliances to accept credit cards and store sensitive information.
3) Endless Design Possibilities
You do not want to welcome your customers to a dull and dreary online store, right? Shopify has a vast variety of ready-to-pick website designs for you to choose from and add some spark to your online store. The theme store offers a very good range of professionally designed themes priced nominally.
Moreover, if you want to add a personalized hint to your website, you can get a fully customized theme designed in Shopify. It might cost a little extra then the pre-built themes but would be well worth the cost if you like things your way.
4) Unrivaled Technical Support Available 24/7
Customer experience is a top priority when it comes to online shopping. Having good and quick technical support is crucial for a wholesome retail experience for clients. Be it your website going down or a payment gateway that stops working, it is important for you to reach out to an expert regardless of the time or day. This is one of the major advantages of Shopify since it has a technical support team like none other. 
You can dial their numbers for assistance or chat with their online help – they will be available for you and your clientele, round the clock. Moreover, the discussion forums in the Shopify Community can also boost your knowledge of digital marketing, SEO-related queries, etc.
5) Easy Migration
If you are looking to expand your customer base and provide easy payment solutions while equally boosting your sales, migration to Shopify is certainly a great option. It does not matter if your preferred platforms have been Wix, WordPress, or the likes of Drupal – our expert Shopify developers can assist you with a seamless migration process through some best plug-in application tools.
Shopify allows you to swiftly export your existing data through various source platforms like BigCommerce, WooCommerce, PrestaShop, etc. Your data could easily be converted into any format e.g., CSV, EDI, databases, JSON, XML, etc, and then could be imported back to the Shopify store. Either done for a brick and mortar store or an online platform, this conversion could go wrong in many ways but given the right resources, you can always avoid that hassle.
6) SEO-friendly!
Shopify makes it easy to edit the most essential aspects of your website making it SEO (Search Engine Optimization) friendly. Managing SEO through Shopify is easy because it is built with all crucial components required for online stores.
Ranking factors required by standard practice in SEO i.e structure, on-page optimization, etc are all covered by Shopify. Inputting meta descriptions, URLs, page titles, meta titles, visibility/invisibility pages, and redirecting web pages will offer you greater flexibility in optimizing your online platform. 
VERDICT!
To sum up, Shopify is an affordable as well as a user-friendly eCommerce platform. It has a number of affordable packages to choose from based on your budget and usage. If your old platform has grown unstable under peak traffic conditions, shifting to Shopify is probably for the best. We can help you develop a fully equipped Shopify store. 
Code District will ensure that your Shopify store impresses your site visitors as well as offers an overall seamless buying experience that will make your customers crave retail therapy again and again!