A legacy system is an outdated software application and hardware system that relies on older technology. It serves right to its functional purpose but has no room for growth and the organization's futuristic technological needs that only legacy software modernization could comply with. Since businesses are constantly evolving due to changes in the economy, management, market situations, and new laws, legacy software can no longer adequately support the technological needs of an organization.
Legacy Modernization
Legacy modernization transforms a legacy system into a modern infrastructure to minimize costs and enhance flexibility, collaboration, scalability, and reliability. 
"For many organizations, legacy systems are seen as holding back the business initiatives and business processes that rely on them," says Stefan Van Der Zijden, VP Analyst, Gartner.
When Do You Need Modernization?
Signs when your application needs modernization:
Your application is slow and cumbersome
Your application crashes frequently
Your application is high-maintenance
Your application looks out-dated
Your applications' user engagement graph is decreasing
What Are the Benefits of Legacy Software Modernization?
Legacy software modernization empowers all departments within your company so that you can work more effectively and smartly. We will tell you some compelling reasons to make this much-needed shift:
Cost Minimization
For many organizations, a large-scale legacy system replacement could be costly. But if you look at the bigger picture, modernization helps organizations save tremendous money in the long run.
It also helps you deduct server costs and does not require any sizeable physical server rooms. In legacy modernization, cloud servers like AWS, Azure, and Google Cloud can hold much data without much cost impact. Transformation of your legacy code into a modern system delivers new functionality, allowing your business to grow with increased productivity. When you work on legacy modernization, you incrementally reduce development costs.
Seamless Internal Business Processes
With the help of legacy modernization, business processes run smoothly, and there are fewer risks. It allows you to leverage evolving IT architecture to expand your operational activities and effectively manage your business needs while making workflows more efficient.
Many companies need help with developing new products or features with legacy systems. With modernized applications, it becomes easier to plan the design, new features, and services in a minimum period of time.
Enhanced Security Risk Mitigation
Security is one of the most critical reasons organizations consider modernizing their legacy systems. According to the research, outdated systems are not safe. You can't rely on them. Hence, this transition could provide better security for sensitive and confidential information. When you replace your legacy system with new, updated software assisted with all the latest security protocols, you significantly limit the chances of intellectual theft, as all your essential documents are fully encrypted and protected.
Better User Experience
Once you modernize your legacy system, it eventually upgrades the entire customer experience. Tech-agnostic consumers of technology require smooth and hassle-free engagement from any business. On the other hand, outdated business systems slow down the process of customer deliverables and overall effects your entire business with continuous loss in clientele due to bad user experience.
Another plus with legacy modernization is the customized interfaces, which can be provided per your organization's requirements.
Various Approaches Towards Legacy Software Modernization
Following are some effective methods that you must know to enjoy the benefits :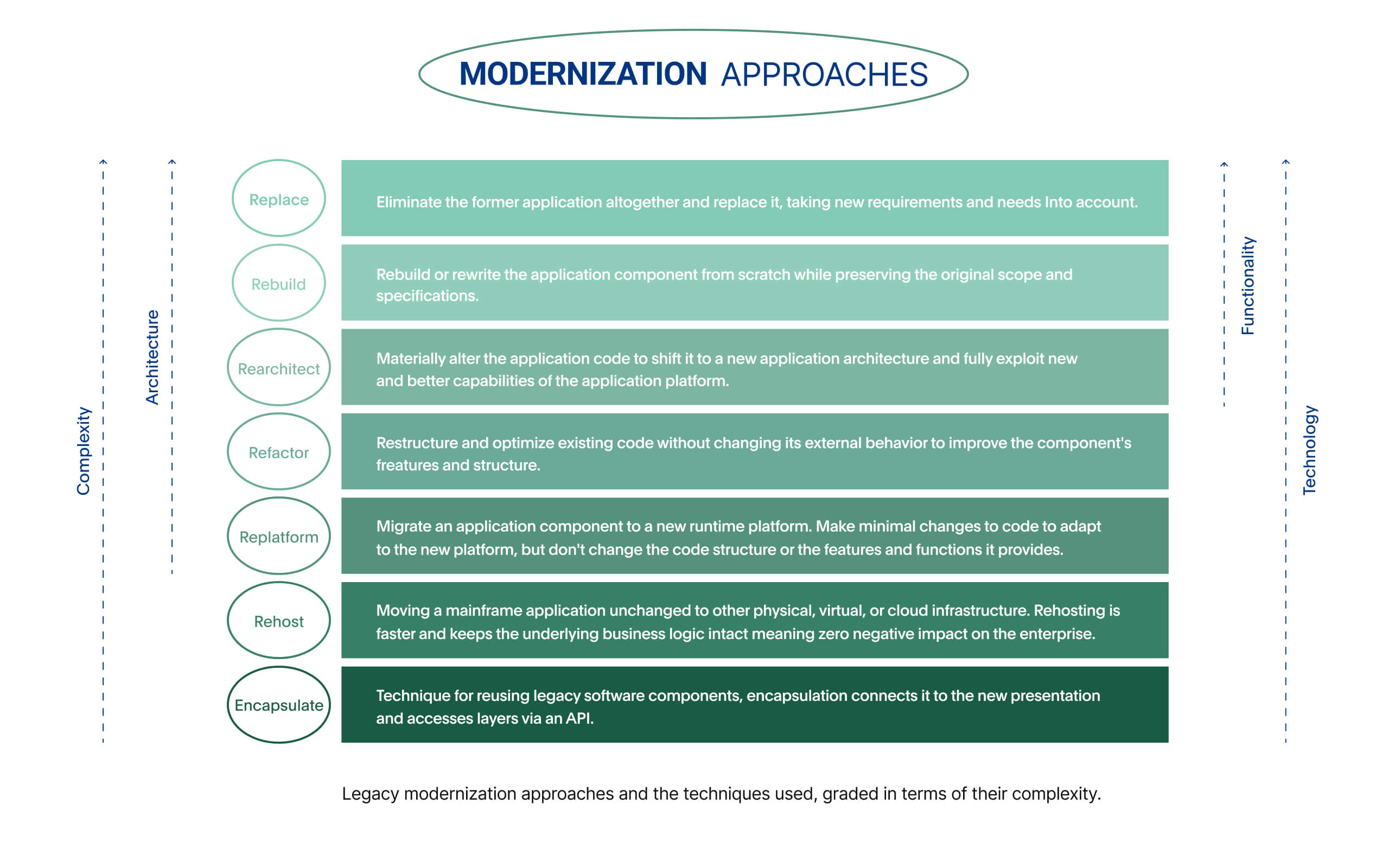 Here are a few Tips for choosing the Best Partner for your LSM
Choose a partner that would recommend discovery workshops. Legacy modernization is a comprehensive process, so it is important to understand work requirements first. Also, choose a company under your domain and business procedures, which is crucial to successfully updating your legacy system.
Keeping the client in the loop should be the top parameter for a potential modernization partner. It will reduce the chances of rework and ensure that the modernized software meets your demands and expectations.
You should check if the partner firm can deliver quality services or not. Ask for references/testimonials or talk to other companies with whom they have done legacy modernization before.
Be mindful that your partner includes the end-users (e.g., the head of finance who will be using the application) in the discovery workshop process. Seamless communication with your modernization partner is also one of the most critical factors.
You can also make a deal regarding training your current IT staff according to the new modernized software to increase efficiency and revenue.
A Case Study of Legacy System Transformation for SwatFame
Introduction:
SwatFame, a renowned fashion design company, operates a multi-vendor e-commerce platform catering to wholesalers and retailers. However, they faced significant challenges with their outdated Visual Basic 6 system.
Challenge:
They needed a modern, user-friendly system that could showcase their latest articles and inventory leftovers. Additionally, they sought to empower their wholesalers by allowing them to log in and select their desired articles.
Solution:
We provided a solution by building them a modern inventory management system that was directly linked to their database, allowing real-time product showcasing. The new system empowered wholesalers to log in and easily select their desired articles from the displayed latest articles and leftovers.
Results:
With our modernization of their legacy system, SwatFame achieved a significant improvement in their business agility. Our new system allowed wholesalers to log in and easily select their desired articles.
Our solution has revolutionized SwatFame's e-commerce platform, enhancing their overall operations and customer experience.
Legacy System vs. Modernized System
Key Takeaways: 
Is your business ready for Legacy Software Modernization?
Legacy application modernization will help your business in many ways. Moreover, being a business owner, you must first comprehend your business motive and plan.
Get connected with Code District. Our team will help you at every stage of your legacy software modernization.